April/10/2018 15:50
Our first post on commemorative stamps got us interested in how Shakespeare is represented on postage stamps. So we dug around, and found two things. First, from
Hat Trick Designs
and
Marion Deuchars
,
this series of six stamps that came out in 2011
to commemorate the 50th anniversary of the
Royal Shakespeare Company
's founding. Starting at top left, here is the key to actors and plays respectively:
David Tennant
(
Hamlet
),
Anthony Sher
(
The Tempest
),
Chuk Iwuji
(
Henry VI
),
Paul Scofield
(
King Lear
),
Sarah Kestelman
(
A Midsummer Night's Dream
) and
Ian McKellen
and
Francesca Annis
(
Romeo and Juliet
).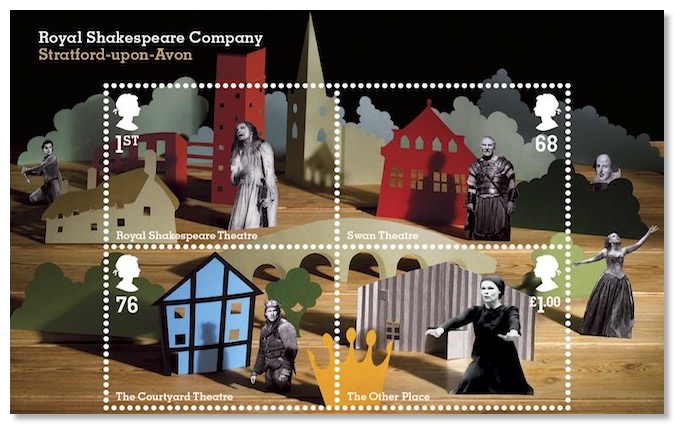 From the same anniversary, and with the aid of illustrator
Rebecca Sutherland
, a set of four stamps, in a very different style,
showing the four Stratford on Avon theaters
. The actors are harder to identify, but we think they are, from top left and going clockwise:
Francesca Annis
,
Patrick Stewart
,
Ian McKellen
, and
Judy Dench
.
December/05/2016 15:42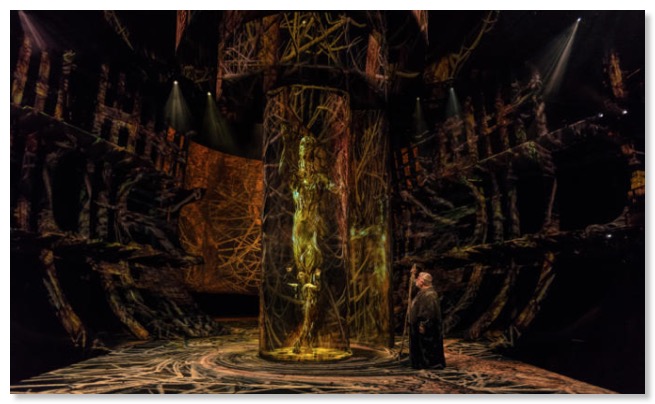 A production photo of the Royal Shakespeare Company's collaboration with Intel on "The Tempest."
PHOTOGRAPH BY TOPHER MCGRILLIS / R.S.C.
Daniel Pollack-Pelzner
reviews the RSC's production of the Tempest, and examines the limits of real-time computer effects blended with a live performance.